Künstlerprofil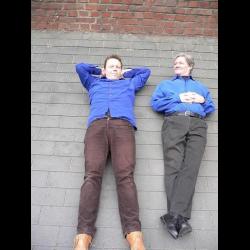 Stammdaten
Genre:
Latin [Choro: Roots of Brazilian Jazz]
Kontaktdaten
Beschreibung
Music lovers all over the world appreciate the classic Bossa Nova songs of Carlos Antonio Jobim. More adventurous listeners may familiar with the wonderful recordings of Brazilian guitarist Baden Powell. But few listeners of Brazil have ever heard of choro, a fascinating style of music that originated in Rio De Janeiro early in the 20th century.

Saxophonist Uwe Steinmetz and guitarist Peter Griggs intend to change all that with their new project, Choro: Roots of Brazilian Jazz. They are pleased to announce their availability for concert performances throughout Europe for fall 2005 and all of 2006.

Uwe Steinmetz, a rising star on the German jazz scene, is a virtuoso performer on alto sax, soprano sax and flute and an accomplished composer. Peter Griggs, an American composer and performer with a deep knowledge of Brazilian music, has developed a highly personal and expressive style on the nylon string acoustic guitar. Together, they perform a unique program of music that is fresh, exciting and completely different.

Choro originated as a Brazilian way of playing the fashionable European dances at the turn of the last century and later absorbed the rich harmonic developments of modern jazz. Modern Choro music is characterized by fast tempos, a powerful rhythmic pulse similar to samba, and a deep sense of melodic invention. The result is a musical style that is simply irresistable.